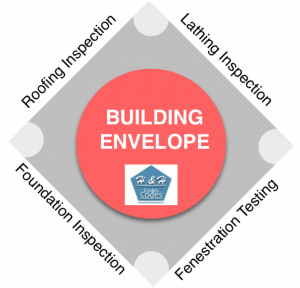 H & H Codes is an approved waterproofing consulting firm, recognized by major developers, architects and property managers, as an expert in all aspects of building envelope protection (for residential, commercial, and public projects.)
Showers/Tubs Waterproofing Observation: 
In general, shower walls tile, shower pan tile, bathtub wall tile are installed according to the following guidelines:
ANSI A108 Series/A118 Series – American National Standards for Installation of Ceramic Tile.

ANSI A137.1 – American National Standard Specifications for Ceramic Tile.

TCNA (HB) – Handbook for Ceramic, Glass and Stone Tile Installation; Tile Council of North

America.
H & H Codes building envelope / waterproofing reports, for new construction and existing building alteration, are combination of approved plans review and on-site field observation. Filed observation starts by foundation inspection, rough framing inspection, insulation inspection, dry-roof inspection, fenestration inspection, and final inspection. During inspections, a stage by stage report is issued, which highlights any deficiency regarding the installation of backer boards, backer rods, mesh tape, waterproofing membrane, sealant, thin-set and ceramic tile on walls or shower pans.  See the following examples/photos of newly constructed showers and bathtubs: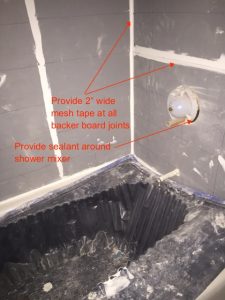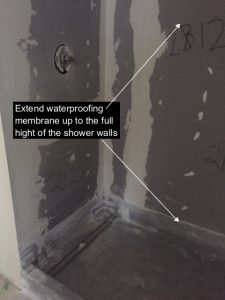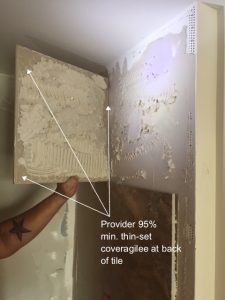 Dynamic Water Testing Services:
H & H Codes developed a comprehensive step by step approach for locating water intrusions among storefront, windows, patio exterior doors, and exterior vents.
Conducting the correct exterior faced's water test requires performing a dynamic water infiltration test in accordance with AAMA 502.1-Voluntary Field Testing of Newly Installed Fenestration Products, and ASTM E 1105 Method B, as the followings:
Determine potential sources of air leakage that may effect the required depressurization level; by visual observation of the test area, and thereafter placing masking tape over any potential source of air leakage.
Visual observation of the durability of subject storefront, windows, exterior doors, and or exterior venting grills intended to be tested.
Setting up the door blower assembly at the main entrance to the subject test area, and ensuring that the setup is properly assembled.
Perform a dry test with the blower unit to verify that a negative pressure of -12 PSI could be achieved within the test area.
Setting up the spray rack at the out side of the subject storefront, windows, exterior door to be tested, and hooking up a water hose to water gage recording a water pressure between 8 to 12 psi.
Spray the subject test area continuously at -12 PSI air pressure for 5-minutes, and at 0-pressure for one minute, respectively for three cycles.
During the test cycles; the subject tested units shall be observed closely with a flash light to locate any water intrusion.
The following photos demonstrate a dynamic water test, where the lanai windows and door shows evidence of water intrusion at the bottom frame/threshold.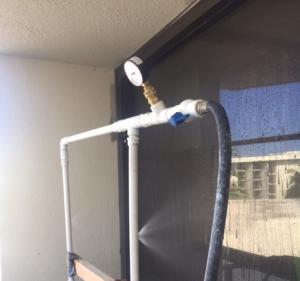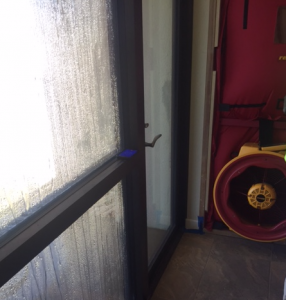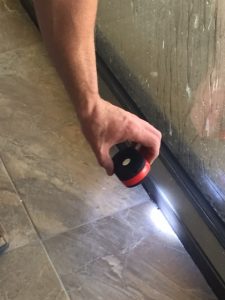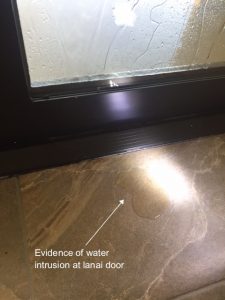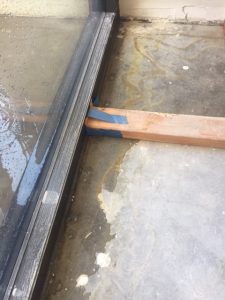 H & H Codes conducts dynamic water tests in conjunction with "Pono Consulting Group" (808) 321-097 (Hawaii.)
Roofing Inspection / Roof Observation Report:
H & H Codes has a track record of roofing inspection / observation reports for new homes and commercial buildings.
A roofing field reports is a three stages inspection, and conducted in the following orders:
Dry Roof Inspection: Here; the intend is to verify the proper installation of roofing paper (nailing and overlapping,) and the proper installation of all the different types of roofing flashing. At this stage of roofing inspection; a garden hose may be used to hose down the dry roof, and test the waterproofing durability prior to installing the roofing tiles.
Loaded Roof Inspection: This stage of the roofing inspection is required to verify that the dry roof (paper felt and flashing,) has not been damaged during loading the roofing tile. Any tear or denting to the roofing paper or flashing (respectively) should be cured by replacement or repair.
Finish Roof Inspection: Lastly; a careful roof-walk inspection, over the newly installed roofing tile, shall be conducted to discover and alert the roofing contractor of any damaged, or cracked roofing tile.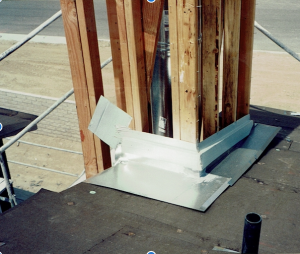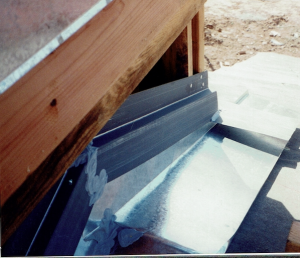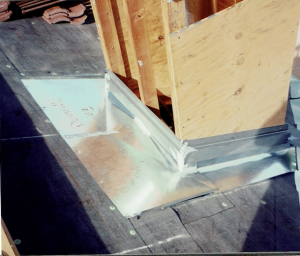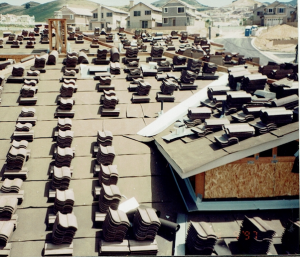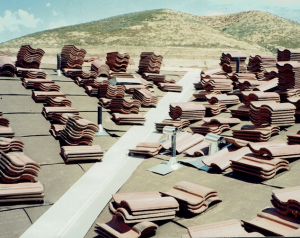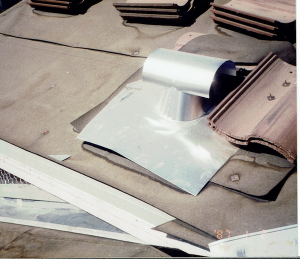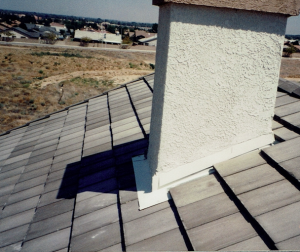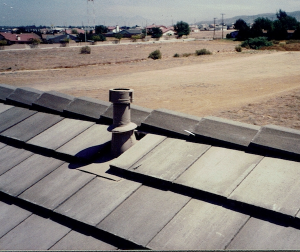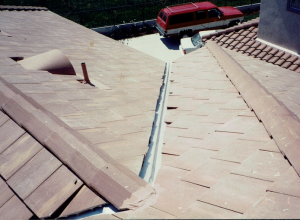 Building Envelope Analysis:
H & H Codes considers the building envelope as a line that separate  the interior and the exterior environments of a building that help maintain the indoor environment and facilitate the building's climate control.
The building envelope is the suitability of roof, walls, doors and windows as a defense against rain, air, heat, and vapor intrusion into an occupied space.
In general, air leakage through the building enclosure is established by ASTM E779. A successful  building envelope allows for only a minute amount of HVAC air leakage. Therefore, curing air leakage of a building enclosure requires testing air tightness with multiple blower doors prior to and during building occupancy.
Windows, doors, storefronts, and curtain wall assemblies must be installed according to the project manual and the manufacturers recommendation. H & H Codes ensures that all exterior opening are accurately installed construction the construction stages, and in most instance; conducts on site water and moisture tests.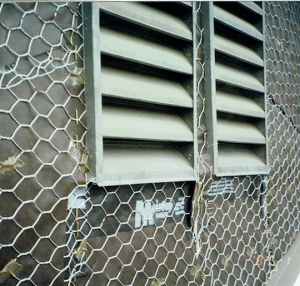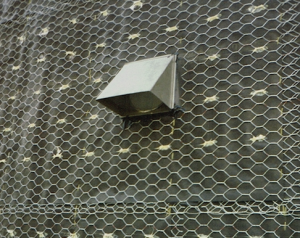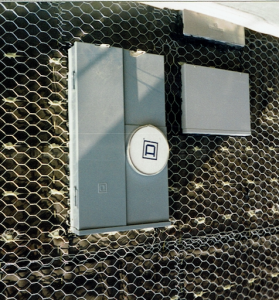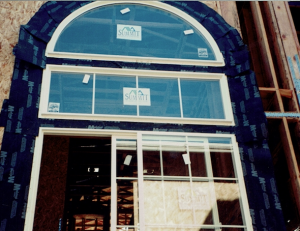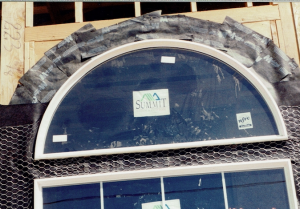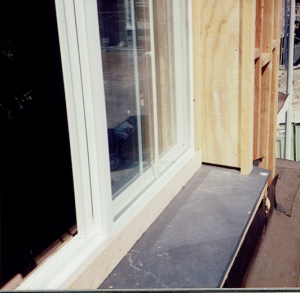 A fixed fee contract shall be submitted upon establishing the scope of work.